This game is important in that unless Michigan plans on awarding everyone the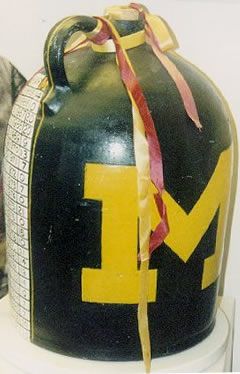 equivalent of a pee-wee baseball or soccer league trophy at the end of the season, Michigan will have to win this game to leave the season with any hardware at all. As ugly as the Brown Jug is this would at least give the seniors something minimal to hang their hats on.
Probably not going to happen though.
Minnesota Offense vs. Michigan Defense
Michigan's defense is now 90th in the country in total defense and 101st in pass defense. Blame whoever you want but simply this is everyone's fault as it was Rodriguez's decision to switch to the 3-3-5 last week, Shafer's defense looked terrible before that switch anyways, and I don't think I have ever seen a team miss as many tackles as the players have this season. So, flat out, the defense is terrible and I was a complete moron to think they would be awesome this year.
What happened against a terrible Purdue offense last week with their 3RD STRING QB spells a nightmare for what will happen this week with Minnesota's experienced starting QB Adam Weber and All-American caliber wide receiver Eric Decker. Weber can run (344 yards and 3 TDs) and has grown to an extremely efficient passer this year (66% for 2151 yards and 11 TDs to 4 INTs) which means absolute disaster already regardless if Decker plays or not.
Before last week's performance I probably would have said Michigan's defense has a shot. Minnesota has a young offensive line that has given up over 2 sacks per game which should normally be an advantage for the experienced Michigan D-line.
Also, Minnesota has struggled to get their running game going this season (94th in the country WORSE THAN MICHIGAN'S). Forget it though as I still cannot erase last week's performance out of my mind where Michigan got no pressure on a first time starting quarterback (0 sacks) and gave up 256 yards on the ground to what had been an anemic Purdue rushing game, mainly due to everything that was opened up by a running QB in Justin Siller.
If you've read any of these before you are probably sick of my optimism and I am trying to search for some here, but I simply cannot. Minnesota's offense is not that good, but Michigan's offense is probably the remedy for that just as it has been for many struggling offenses this season (except Michigan's). The defense has stepped it up at times this year, but everything seems to be going downhill especially with the switch to the 3-3-5 last week.
I don't know if they switch back to the 4-3 or not, but at this point does it really even matter? Missed tackles, Donovan Warren at safety, terrible play from the linebackers= success for opposing offenses. Minnesota and the mobile Weber will see probably get to experience some of that success tomorrow.
Advantage: Minnesota

Michigan Offense vs. Minnesota Defense
Minnesota is not a very good defense either yardage wise. They give up 132 yards per game on the ground and are 82nd in the nation in pass defense. Too bad it doesn't matter how bad they might be because Nick Sheridan will most likely be starting with Threet probably out with a concussion suffered in last week's game.
And oh yeah, turnover prone Sheridan will have to lead an offense against a Minnesota defense that has used a plethora of forced turnovers to propel them to their 7-2 record this season. Minnesota is 2nd in the NATION in turnover margin. They've forced 26 turnovers on the year (tied for 1st in the country). If Threet doesn't play, and it's likely he won't, Sheridan will probably be throwing it to Minnesota players more than to Michigan. The only hope is to hand it off to Minor who was the only bright spot in Michigan's offense last week and continues to show that he will be the starter next year.
Justin Feagin has been moved back to QB with Threet's injury and I truly believe we will actually see him in tomorrow. My dream scenario for the offense is that Feagin comes in and has a Justin Siller-esque day tomorrow coming out of nowhere. The coaching staff already blew his redshirt by playing him on special teams last week so in all honestly, what the hell do you have to lose. They've been reluctant to play Feagin all year because "he's not ready" but I certainly hope to see him at least for entertainment purposes. Siller wasn't supposed to be ready either, but he was.
There's my optimism creeping back in...but back to reality. Sheridan playing means turnovers and another long long long day. The only hope is to be completely one-dimensional and hand it off to Minor every play hoping that Minnesota's defense pulls a Michigan and misses tackles all over. The O-line has been better, but still not nearly good enough for this to happen.
Advantage: Minnesota
(at least play Feagin for our entertainment...please?)
Special Teams:
Michigan finally could return the ball last week with Odoms' touchdown and a couple good kick returns by Cissoko. Michigan needs some returns for TD's this week because scoring won't be coming from the offense. Minnesota has given up a kick return TD this year, but otherwise have been solid so it won't be easy to get scores there.
Minnesota's return game is not very explosive (no TDs) but they have a solid kick returner in Troy Stoudermire averaging 25.6 a return and punt returner Marcus Sherels averaging 11.9. But Michigan has been very good in punt coverage and pretty good in kick coverage as of late. From what I've seen of Michigan and looking at Minnesota's numbers, I actually think Michigan might have a better return game at this point. But then again they have to hold onto the ball.
Zoltan and the punting unit is still #1 in the nation. But Justin Kucek for the Gophers is pretty good too averaging 41.6 a punt. Joel Monroe is a decent kicker for the Gophers this season (9-13) though he has missed two from inside 30 yards. Lopata is, as we know, meh.
I actually give the edge to Michigan here because I still want to keep some hope for whatever reason and the return game could very well be better than Minnesota now.

Advantage: Michigan
I really hope the team can keep some hardware this season by keeping the Jug so the seniors won't be remembered for losing everything. This senior class does not deserve to be called an underacheiving class because it does not have some of the players that earned it a top 10 recruiting class upon its arrival (more details on this for next week's preview on senior day).
Unfortunately, the defense in its current state against a pretty mistake free Minnesota offense led by a mobile QB in Weber=disaster. Unfortunately a Sheridan-led offense against the defense that has forced more turnovers than any other team in the nation this season=catastrophe. Regardless of if special teams plays well, disaster and catastrophe above should be too much to overcome.
I can't find any optimism for tomorrow as of right now. I can't believe it. Even the homer inside me understands. Its time to lower my expectations (especially with Sheridan in). I can't take anymore disappointment.
Final Score: Minnesota 27 Michigan 10
Tear. The season of disappointment continues
I hope I'm wrong but needless to say, its not looking good...