Moving onto football: The next four days could be the longest of many Michigan fans' lives. With all the ridiculous coverage of the poor journalism by the Freep, Saturday cannot come fast enough. Here's the first installation of our 2009 season preview and we start with the Defense.
As bad as Michigan's offense was a year ago, the defense was the worst in Michigan history. Yes, some of that had to do with an offense that could not keep the ball long enough to give the defense a rest. However, for a defense that was supposed to carry the Wolverines to a .500 record there is no doubt last season was a disappointment. The scene in the picture above was far too familiar with a number of Wolverines unable to bring down a man from the opposition. Highlighted by the record 347 points allowed, the veteran defense struggled through scheme changes, technique changes, and injuries to an underachieving season.
This year, 3 of the top 4 defensive linemen are gone. In addition, the secondary has lost players through graduation and attrition finding itself pitifully thin. Stevie Brown is now a linebacker at the "spinner" position in Greg Robinson's 3-4 scheme. The linebacking corps is the deepest position for the defense. Overall, this is a thin defense that will be playing a lot of young guys. This makes for a scary, uncertain forecast.
Scheme:
First, a little bit about the philosophy of Greg Robinson. Last year, the team could not seem to decide on what scheme of defense was ideal to run. Supposedly under Shafer, position coaches were not communicating as well as a team would like. This lead to a lot of situations where players seemed isolated and confused last year. This year, Greg Robinson has emphasized more of an entire team style of learning as opposed to only with their position coaches. Players have sited numerous meetings with all defensive players which did not occur a year ago under Shafer. Robinson emphasizes "playing to your help" which, again, is something that did not seem to be occurring much last season. Players were often found isolated in coverage and attempting diving tackles instead of getting to an offensive player, slowing him down, and waiting for help to bring him down. This led to the unbelievable number of painful big plays a year ago which the coaches have sited as the main source of the major problems. Hopefully, this philosophical emphasis on "playing to your help" should be enough to turn some of those big plays into only moderate gains.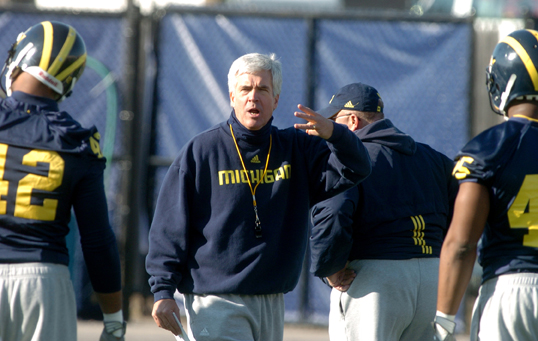 Secondly, the X's and O's scheme of Robinson is a 3-4 based defense. However, the team will show a 4-3 base from time to time. The main nuances in the Robinson scheme come from the much over-hyped positions in the linebacking corps. These are the "spinner" position and the "quick" position (aka Deathbacker). The "spinner" is an outside linebacker who is the LB/S hybrid so to speak. This is the position Stevie Brown will be starting at. Robinson, insists that this is simply an outside linebacker and not necessarily a hybrid (but for our purposes, the spinner is essentially a defensive back who blitzes and supports the run more than any usual safety). The "quick" spot or as many on the Michigan Blogosphere have dubbed it "deathbacker" is essentially an OLB/DE hybrid. This will be a defensive end who drops back more than the typical defensive lineman. Sometimes they will line up with a hand down in a 3-point stance, and others they will be standing.
While everyone knows of Robinson's struggles (disaster) at Syracuse, he has not had awful stints as defensive coordinator. As far as his career within the last 15 years (I find what is past that to be less useful for our purposes given how much the game has changed) he won two Super Bowls as the Broncos DC, was DC for the terrible Chiefs' defenses from 2001 to 2003, came back to college as DC for Texas in 2004, and was HC at 'Cuse from '05 to '08. Given that the NFL is so much different than college and that he proved to be more inept as a Head Coach at 'Cuse than at any time as a DC, his one year stint as DC at Texas gives us the best insight, albeit a very uncertain one, into how he will be here.
What stands out is his emphasis on stopping the run and his apparent lack of emphasis at stopping the passing attack. The 2003 Texas team (year before Robinson), lost three games and gave up 21.5 PPG,
155 yds. Rush/game
, and 170 yards Pass/game. Robinson took over in 2004, the team went 12-1 and the defense gave up 17.9 PPG
107.4 RYPG
and 212.7 PYPG. Robinson left before 2005, Texas' Nat'l Title year where the D gave up 16.4 PPG,
130 RYPG
, and 172 PYPG. Robinson's defense game up 50 less yards on the ground/game than in '03 and still 20 yards less on the ground/game than the Nat'l title team. So it seems that more recently Robinson has focused on stopping the run. This should bode well in the Big Ten. However, the passing yardage allowed raises a little bit of a flag. Robinson's team gave up over 200 yards/game through the air and even the 2003 Texas defense which was shaky gave up only 170. This reminds me of the Michigan defense throughout much of the Carr era, particularly under English. A defense that stuffs the run, but struggles when opposing teams spread the field.
Again, this is based off of ridiculous projections from one year of data from him as a DC. In reality, this tells us very little. But since this is a preview and the point is to predict and project, this is my ridiculous conclusion: a defense we were used to seeing with Carr/English except with the whole "spinner" and "deathbacker" thing. And, the personnel is not quite to where it was under the English defense experience and depth wise. So even though the philosophy and scheme may be ok, does M have the personnel to execute well enough?
Defensive Line:
Thank God Brandon Graham came back. In the Robinson scheme, the defense only has one full-time designated DE. For this year, that is a very good thing.
#55 Brandon Graham is the starter at DE. As most everyone knows he is probably the
best player on the team and a projected first round draft pick. Barring injury, Graham will have a 1st team all-Big Ten season challenging for All-American if he gets help from some teammates and is not constantly double teamed. Behind Graham, though, it gets scary. On the first depth chart released from the team, a walk-on and Adam Patterson are the only backups listed. What's more is #39 Will Heininger, the walk-on with 5 games of special teams experience is listed ahead of #99 Adam Patterson who has 19 games of experience and has at least played some DE. From Brandon Graham to walk-on is quite a drop off in talent. Will Heininger does have size at 6'6" 261, but there is no way to project how good/bad he will be. My guess is that he an Patterson will split time in relief of Graham. The fact that freshman, early-enrollee #90 Anthony Lalota is not listed on the depth chart makes me believe the coaches would prefer to redshirt him. But, if Patterson and Heininger really don't work out or if Graham goes down, Lalota will very likely get his redshirt pulled and see extensive PT.
The Robinson scheme has a NT and a DT where the DT will sometimes play the role of defensive end. Due to this, it is kind of nice to have #53 Ryan Van Bergen as the DT. The third year sophomore used to be a DE and played in all 12 games for the Wolverines last year. So he has some experience under his belt. Alot has been expected from his since he's been on campus. He did not show a whole lot last year, but will have ample opportunity to make plays this season. Behind him is another converted DE in #92 Greg Banks. Banks seems to be one of those players who hasn't and just won't materialize into much at Michigan. He's now a fourth year junior and is still a backup. His experience should enable him to be an adequate backup, but you hardly ever hear the coaches mention him as a potential difference maker on the defense.
The NT position seems much more promising with returning sophomore #68 Mike Martin as the starter. Martin played extensively as a freshman last year which is extremely hard to do on the D-Line. Although he did not officially register a start
in '08, he played in all 12 games and played alot more than many expected in relief of Terrence Taylor. As with the rest of the team, coaches have said Martin has worked extremely hard in the weight room bulking up to 292 lbs. He also holds 3 strength and conditioning records for the D-linemen and a team record for 30 reps of 225. Martin has a chance to break out this year and even be in contention for 2nd team Big Ten. He showed alot of promise last year and should only improve this season. Though many want to see true freshman #73 Will Campbell get alot of snaps this year, he is listed behind Junior #95 Renaldo Sagesse on the depth chart. Sagesse should get more snaps than Campbell at least at the beginning of the year. However, I would not be surprised to see Campbell step up and get on the field more as the season progresses. I was shocked to see him so slim on the first day of practice. He enrolled early and came into the Spring listed at 6'5" 330, and many said he came in at over 340 in the winter. He certainly has worked hard to get in shape to contribute. He is now listed at 318, but looks lean and under 310. He honestly did not have a gut (that much of one) when I saw him in practice. With his talent, I do not think Robinson and co. will be able to keep him from getting some significant time this year.
Overall, the D-line lost a lot in the three starters from a year ago. Graham coming back really salvages this line and gives them a chance to be respectable. If Graham and Martin build off the way they played last year and Ryan Van Bergen really steps up in his new role as starter, the unit could begin to gel and be very good midway through the season. Health is a huge factor, though. There is not real depth at any of the three positions. Graham and Martin must stay healthy and Michigan cannot afford to have 2 of the 3 starters out at any point in the season. Even if the backups play up to their potential, it might not be good enough when the Big Ten schedule rolls around.
D-line Preseason Grade: B-.
Without Graham this line is in the C range with its lack of depth.
Outside Linebackers
Transitioning from the D-line we'll start with the "Quick" end or DE/LB hybrid. #58 Brandon Herron is currently listed as the starter with true freshman #88 Craig Roh as his back up. Herron is a third year sophomore who played special teams in all 12
games last year. It is very tough to judge his knowledge of the game and how he will play. But, from an athletic stand point, Herron should be fully capable of succeeding. He is arguably the strongest and fastest "linebacker" on the squad. Though he weighs only 220 pounds, Herron holds S&C linebacking records for the power clean, squat, vertical and 40. This combination of strength, speed, and jumping ability could allow Herron to have alot of success at the new hybrid position. The Quick will rush the QB alot and Herron not only could be quick enough to get into the backfield, but also should be able to tip alot of passes and intimidate opposing QBs. Again, he is completely unproven as a defensive player and if he has not grasped his responsibilities mentally he could be terrible. We will have to see. The good news is there is talent behind him on the depth chart in Roh. Roh impressed many with his performance at the Under Armour All-American game. He also appears to be in great shape for a freshman arriving this summer. He is very lean and possesses great quickness. The big question with him is his strength. While coaches believe he has come along well since arriving on campus, he still may have trouble with some of the bigger tackles and tight ends in the Big Ten. His speed, though should allow him to make some plays throughout the year. #81 Steve Watson is listed as the third string. Watson is the least athletic out of the three. If/when he plays, I expect that he will mostly be used more as a traditional DE with his hand down.
The other OLB spot, spinner, is the LB/S hybrid occupied by #3 Stevie Brown. The now infamous Brown had been picked apart by opposing defenses and fans the last few years at safety. Coaches and fans, are hoping this move to hybrid linebacker will make better use of Brown's skills (speed) and minimize his weaknesses (coverage breakdowns, poor angles, poor tackling). I was one of the last to try and stick by Brown, but he made it very difficult. While many want to believe this move will minimize Stevie's blunders, I am very skeptical. Not only has Brown been blown by in coverage, he has had his share of poor attempts at tackling and has taken poor angles time and time again. Those are fundamental mistakes that need to be corrected technique wise, not by a position change. Given the fact that Brown has impressed coaches in practice year after year, I am now convinced it is a mental thing for Brown when he is on the field on Saturdays. His intuition/game-sense or lack thereof has put him and his team in bad situations over and over again leading to some big plays for the opposition. In this new position, he better have learned to take better angles and tackle better since he will be playing in run support alot more. I am very scared that he may miss tackles on running backs who then will be able to get into the secondary for huge gains. While we might not have to watch Stevie blow coverages as much, if he does not start tackling better expect more of the same struggles. Stevie Brown is a great guy and I hope he succeeds, but he has repeatedly made the same mistakes for two years. Here's to hoping they stop.
The reason they need to stop, is that behind him on the depth chart are two or three freshmen in #27 Mike Jones, #7 Brandin Hawthorne, and #23 Floyd Simmons (?). The reason I put two or three and a "?" by Simmons is that Simmons has been previously listed as a CB and Hawthorne is not on the first depth chart released despite the fact that coaches have extensively mentioned him as in the mix at spinner above Jones. Either Jones has stepped up and they would like to redshirt Hawthorne or a mistake was made on the depth chart released to the media. I would assume the former and that, barring injury, Hawthorne will be redshirted with Jones playing. Simmons should not see the field much at this spot, if at all. Hawthorne and Jones both enrolled early and went through spring practice. They were both recruited for their speed and athleticism with Jones being recruited by most as a safety. They are both young and talented. Given that Jones is listed at number two, it would be safe to guess that he has come along a little further than Hawthorne at this point and has maybe has a better grasp of the defense. Jones should see the field for a few snaps each Saturday and if Stevie struggles, Jones may see his playing time go up as the season moves along. This position stands out as the biggest question mark on the defense given Brown's track record and the fact that freshmen sit behind him. Hopefully Brown has learned how to tackle. If he has, his time in coverage should be taken down enough to count this position switch as an improvement. One thing that may help Brown is Robinson's emphasis on playing to help. If Brown attempts to push opposing players to his help instead of diving at them as he did last year, that will be a definite improvement. We'll have to wait and see.
Inside Linebackers
At the MIKE or middle linebacker spot is #45 Obi Ezeh. Last season, I thought Ezeh played very well in the opener against Utah reminding me of a younger David Harris. As the season went on though, Ezeh was very inconsistent and often made poor decisions and poor tackling attempts. Now a fourth year junior, Ezeh has the most experience on the unit and will be the leader of the linebackers. There is no doubt
Ezeh has the physical talent to be a very good linebacker. But his inconsistency last season leaves many wondering if his game instincts are not good enough to make him a great linebacker. While those concerns are fair, I am not in that camp. Alot of Ezeh's apparent problems last year, may have come from the confusion of the whole defense. Robinson has renewed an emphasis of meeting with the entire defense not just individual units. Ezeh and other players have said the whole defense rarely met as a group last season, whereas this year it happens frequently and reminds them of how English ran things. This should lead players having a better understanding of what their teammates will be doing on any given play. In turn, this could allow Ezeh to relax a bit more and make better decisions this season. Ezeh made some very bad decisions last year in run support as far as which gap to cover. I believe it would be very easy to second-guess yourself and think too much with a defense that obviously was not on the same page last year. I expect Ezeh to play much better this season, similar to how he played in the Utah game. But that's just me.
Behind Ezeh at MIKE are two very talented and highly touted second year guys. Sophomore #42 J.B. Fitzgerald and redshirt freshman #25 Kenny Demens both have good careers ahead of them. Both have good size weighing over 230 pounds and are known to be very good athletes as well. Demens especially was known for his speed coming out of high school. Fitzgerald played special teams last year in each game with a few snaps at linebacker. He will get alot more snaps at linebacker this year and it should be fun to watch him develop week to week. Demens redshirted last year and is behind Fitzgerald on the depth chart. Still, I expect him to get some playing time since Rodriguez likes to substitute often on both sides of the ball.
At the WILL or weakside linebacker spot #8 Jonas Mouton will start for the second year in a row. Mouton showed alot of upside a year ago despite being banged up for almost the entire season. He finished second on the team in tackles with 81 and made some plays behind the line of scrimmage with 6.5 TFLs and a sack. Many are expecting Mouton to have a bit of a breakout year. Provided he stays healthy,
Mouton could surprise alot of people this season. Behind him is a walk on and a redshirt freshman. On the released depth chart, walk-on #52 Kevin Leach is listed ahead of up and coming redshirt freshman #4 Brandon Smith. I'm not buying it. Coaches have been talking about Smith all camp as a guy who will be able to contribute at linebacker. I think this might be a way to motivate Smith if he has been taking it easier in practice. However, Rodriguez has an affinity for walk-ons and that is what Leach is. You may remember Leach from recovering the opening fumble against Utah which led to Michigan's score. Leach also peaked last season seeing some time at linebacker against Toledo before getting injured for the remainder of the season. So that is Kevin Leach for you. Smith is certainly the more talented of the two and I expect him to play more. But Leach will get a few snaps as well.
Overall, the linebacking corps is the strength of the defense experience and depth wise. It still is far from being a great linebacking corps. Ezeh struggled at times last year, Mouton has not still solidified that he can become a great linebacker, and the two hybrid spots are somewhat foreign to any defense Michigan has seen in the past.
Linebackers' Preseason Grade: B.
Talented, but the depth is young and the starters have been inconsistent.
Secondary
The Secondary's depth is extremely frightening. If the starters do not stay healthy this defense will stand no chance against teams with any semblance of a passing attack.
At cornerback #6 Donovan Warren and #33 Boubacar Cissoko return. Warren's apparent decline in play last year has since been somewhat explained by the fact that he was playing hurt for nearly the entire season. He is now healthy, though not completely 100%, and should return to improving off of his freshman campaign. Cissoko played extensively last season as a true freshman. For the most part, he played well.
This season he will step into the starting role and be expected to play well every down. Both Warren and Cissoko are very talented, but by no means are they All-American caliber just yet. If Warren bounces back, he could challenge for first team All-Big Ten. Cissoko is still young and relatively inexperienced. He will take some lumps along the way, but hopefully will be able to make some plays in the secondary on a consistent basis. The coaches have praised his ability to play in press coverage. Expect to see alot of press coverage from Cissoko this year. After those guys though, it gets scary. Redshirt freshman J.T. Floyd is listed as Cissoko's backup. He will probably play the most out of the backups, at least early in the season. Coaches have asserted that Floyd is their third guy, but he has not yet played a snap. He will have to learn on the job. The coaches have been searching for a fourth solid corner and that will be one of two freshmen. Michigan Cass Tech product #14 Teric Jones and Charles Woodson's clone, #2 J.T. Turner, are those two freshmen. I completely exaggerate Turner as Woodson's clone, but he was one of the top corner prospects in the country, has great size at 6'2" and many expect him to be the next great Michigan corner. He arrived at camp a little late due to some clearinghouse issues, but his talent has kept him in the mix for playing time. Jones is much smaller at 5'8" but has impressed coaches since his move from slot receiver. I fully expect Turner to be the one to get the most playing time simply due to his size and talent. But as you see, not one backup at corner has played a single snap. That means alot of uncertainty and trouble if Warren or Cissoko gets injured.
Safety is a similar story except neither of the starters have had a full time starting role yet either. #19 Troy Woolfolk is listed as the starter at strong safety with #40 Mike Williams playing opposite him at free safety. Woolfolk switched to safety from corner during the spring and is known for his speed. Woolfolk holds the title for team's fastest player, except Denard Robinson is now challenging him for that title. Woolfolk played special teams last year and did not see the field much in the secondary. Williams played safety in 9 games a year ago and perhaps has the best leg strength in the secondary. He holds DB records in the vertical, squat, and power clean. The coaches have both noted that Woolfolk and Williams like to play physically and will play some press coverage this year. Williams played well at times last year and many have been expecting him to get this starting role for a while now. Woolfolk is a bit of a flier, however and it is hard to judge him without seeing him in a game. Michigan better hope he plays well because the depth at safety is terrible.
Behind Williams at free safety is true freshman early-enrollee #5 Vlad (The Impalor) Emilien. Emilien was a highly touted recruit out of Florida and many have been expecting him to contribute this year. He is very talented with good size at 6'1" 198, but was playing high school ball a year ago. He will see reps each week and will be the top backup at the safety spot. Behind Woolfolk at strong safety, though, is very scary. The only listed backups are two, yes two, walk-ons. Third year sophomore #31 Jared Van Slyke is currently listed at number two on the depth chart. Other than his size at 6'3" 197, I have absolutely no clue how he will be at safety. The third string is listed as #22 Jordan Kovacs who stands at 5'10" 194 pounds. I do not know how good or bad either of these guys are, but we will probably see Van Slyke on the field this Saturday. Apparently the staff is electing not to play true freshman #15 Thomas Gordon who was actually recruited. This puzzles me because coaches have been saying he has been playing pretty well at safety. Perhaps the walk-ons are playing well too and they would prefer to redshirt Gordon. Regardless, if Woolfolk or Williams gets injured at any point in the season, do not be surprised to see Gordon get a shot.
Secondary Grade: C.
Though the starters should be just fine, they cannot play every snap. The depth is so scary here that I could not give a higher grade.
Defense as a whole
This is the third scheme these players (the ones who have been around long enough) have had to learn in three years. While their is talent, most of it is young and inexperienced talent. For this defense to be good, they will have to stay healthy and have alot of young guys grow up in a hurry. Having said that, they cannot get much worse than last years' defense which gave up a Michigan record 347 points.
With an offense that should hang onto the ball for longer stretches of time, the defense should have fresher legs throughout the year. That should be enough to give them slightly better numbers than a year ago. Bottomline is Graham has to play like B.G., Martin has to step up, Ezeh and Warren have to bounce back, and the team, particularly the secondary, has to stay healthy. If these things happen Michigan might turn some heads in a good way. If not, it'll be another frustrating year of watching a sub-par Michigan defense, albeit one that is slightly better than last year's horror.
Defense Preseason Grade: C+/B-