Last season's offense was a disaster. I do not want to spend much time on it so here's the summary. Quarterbacks: Terrible; O-line: Terrible; Backfield: Injured and no blocking; Receivers: Bad QB play, no chance to make plays, turned the ball over on special teams. All of this led to an offense worse than I could have imagined. We should have known since Rich Rod is bluntly honest and almost always looked frustrated and claimed the offense was not up to speed during last fall's camp. But I chose to ignore the signs and naively expected an ok offense. Needless to say I could not have been farther from the truth. Time to move on.
The good news this year is that Rodriguez has seemed relatively happy after each practice and has been impressed with the way the offense has come along. Again, with other coaches this might be coach speak, but Rodriguez has proven to genuinely express his opinions on the team. Couple this with the fact that the entire offensive line is back with a year under its belt in the system, the depth has vastly improved, the backs and receivers are talented, and at least two talented QBs are on the roster, and this offense should actually be pretty good.
This offense is based around speed and getting playmakers the ball in open space. Michigan now has some relatively experienced, fast playmakers, two mobile quarterbacks, and a serviceable offensive line to give those guys time to make plays. While the youth at quarterback will lead to inevitable mistakes, there should be many less mistakes than we saw a year ago.
Quarterbacks:
After last year, nobody wants to see #8 Nick Sheridan get any more snaps. Sheridan's numbers were god awful completing just 46% of his passes for just 2 TDs to 5 INTs in eight games played. Threet at least had more TDs that INTs throughout the year with 9:7. Coaches, however, maintain that Sheridan is a viable option at quarterback and that he has vastly improved from last year. While I'm sure Sheridan has the best knowledge of the system out of the three QBs (Sheridan, #5 Forcier, and #16 Robinson), one must take into account the ability of a quarterback to execute the offense against good competition under pressure. As far as talent and physical ability, Forcier and Robinson are way above Sheridan. From the few bits of practices that I have seen, Sheridan has improved his throwing ability. But it still lacks the pop that Forcier's throws have and even Robinson's throws. Forcier does have a confidence about him and arm strength and accuracy that Sheridan does not even come close to. Even Robinson has surprised many with his ability to throw the ball, in addition to being the fastest (or 2nd fastest) player on the team. His tendency from the first week of camp to overthrow receivers in the flats has diminished greatly and he is much more accurate now.
Still, perhaps Sheridan's decision making has kept him in this race. We will see Sheridan get snaps on Saturday, but we now know Tate will get the first snap of the game and likely the first drive or two. Due to Forcier's physical abilities,
accuracy, and confidence many expect Tate to win the job. I agree with that assessment. However, Forcier still does not have the knowledge of the playbook that Sheridan has. This is evident in practice in that Smith still has to criticize Forcier of not going through his progressions in walk-throughs while Sheridan is often correcting his teammates throughout. In Forcier's final year of high school, his completion percentage went down from 77% to 63% and interceptions went up from 5 as a junior to 15 as a senior. He did lose a lot of talent around him, but those still are somewhat alarming to me. It seemed that his final year of high school saw him with an increased likelihood of taking risks through the air. If Forcier struggles with decision-making and starts to turn the ball over, do not be surprised to see Sheridan get increased playing time.
And oh yeah, Denard "Shoelace" Robinson. The lightning fast QB who also has an arm is in the mix. While many might assume he was a run first QB, he was far from it. His completion percentage in high school was below 50%, but part of that may be because he threw the ball an awful lot. For his career, the speedy Robinson had over 4700 yards
passing to just 1300 yards rushing in 3 years as a starter. His senior year, Robinson threw for over 1800 yards while rushing for just over 500 yards. The main concern with his passing is accuracy with a senior year completion percentage of just 43%. My opinion on Denard is he will play in every game (barring-injury) but probably not as the full time starter. His speed and talent is just too great to keep off the field. As far as managing the game at the QB slot, I do not believe he could do as great a job as Tate just yet. It is just my opinion, but the fact that Forcier has been here 4-5 months longer, has the most accurate arm, and still can run the ball a bit just makes him the better game-manager at this point in time. Rich Rod insists that Robinson is taking reps as any other quarterback and is learning to run the offense. I do not doubt that he is. However, with Forcier as the leader as "game-manager" Rodriguez and the staff are not going to let Robinson stand idly on the sidelines throughout each game. From Robinson's high school numbers, I'm actually a bit concerned that he may try to pass too much even when he has a chance to break a big run. Hopefully he trusts his instincts and the coaches ensure that he uses that speed. Since Rich Rod asserts that all three QBs will play against Western, I expect Robinson will have a few drives as "the guy" as well. But, Forcier's mix of physical abilities and knowledge of the offense will win him the job. Robinson will still play every game and the coaches have a chance to create a great dynamic between the two, IMO. I believe Sheridan will end up being like another coach on the sidelines and waiting in the wings just in case Forcier goes down.
The lack of experience is the obvious concern here. Forcier and Robinson will make poor decisions at times during the season. The key is that neither of them tries to do too much. Forcier has said all the right things in that he says his only job is to "manage the offense" and not try to do too much. However, Forcier has a swagger about him that makes me believe he will force some ill-advised passes down field from time to time. Still that's better than the floating ducks Sheridan lofted up at times a year ago. So the freshmen will make mistakes. But to what extent can they minimize them? The coaching staff and teammates of the freshman QBs have to find a way to keep Forcier and Robinson relatively relaxed throughout the year. Judging from the last practice on Wednesday, this team does seem to be very relaxed and loose as well as very tight. This will go a long way to keeping Forcier and Robinson down to Earth and realistic about when to go for big plays and when to settle for less. But as Rich Rod says, we will not know until we see them in a game.
Preseason QB Grade: C+
. Forcier and Robinson alone greatly increase the talent of this unit from a year ago. Last year was a disaster, but the fact that Rodriguez now has two of his own guys here (highly touted guys at that) will give this team a much higher ability to strike big plays. But they are freshmen and the uncertainty that comes with that means this position is questionable. Sheridan will play early in the season, but barring injury I expect him to be more of a coach as the year goes on (at least I hope so). David Cone's general suckiness brings this unit out of B range and into the Cs. I know he won't play, but why is he still on scholarship?
Offensive Line:
The quarterbacks will not be able to do anything without a drastically improved O-line. Last year's injury-riddled, depthless, inexperienced unit was the main reason for Michigan's offensive troubles last year. The QBs were not great, but they never really had time to show what they could do because the O-line was a sieve. This season, every one is back with a year under their belt, Schilling is at his natural position (Guard) and the addition of the talented redshirt freshman adds actual depth which was nowhere to be found last season. At the beginning of camp, I was shocked to see the great shape that all the linemen were in. Tim McAvoy was the only player with any sort of a gut and he is now injured and likely would not have started. Everyone else looked lean, quicker, and a little stronger. This should be a vastly improved unit, but not quite great.
The two tackles really struggled a year ago. #71 Mark Ortmann and #72 Mark Huyge are the starters at LT and RT respectively. Neither one is a great talent. However, both can prove to be serviceable this year after another year of Barwis workouts and having a solidified unit around them. Ortmann started every game last year and was expected
to be the starter this year. He is a fifth year senior who was shaky last season, but came along and was decent as the season progressed. Huyge is a bit of a flier as a third year sophomore. Most people expected redshirt freshman and Rodriguez recruit #65 Patrick Omameh to win the job for RT. But Huyge really came along throughout camp and appears to have earned the job, at least for now. That means one of two things. Either Huyge has really stepped up his game and will be a solid option at RT or Omameh is not as good as we expected him to be. The coaches have praised Omameh and his development though making the latter unlikely. So, the optimist in me is saying Huyge will be solid and I am going with the optimist in me. Omameh should play plenty this year and provide very solid depth. If Huyge struggles at all then Omameh will be able to fill in his shoes. At LT, #79 Perry Dorrestein is the backup to Ortmann. Dorrestein started four games at the spot last year and was not very terrible in relation to last year's line (he was still pretty bad). He is big and was pretty slow a year ago. While he looks to be in better shape now, he probably will only play extensively if Ortmann gets hurt. The tackle spots seem alot more certain this year, but again they are not great. There will be times where they get beat, but those times should be less numerous than last season.
#52 Stephen Schilling may finally blossom into the lineman many have been expecting him to be. He is now at his most natural spot at LG after spending the last few years shuffling between tackle and guard spending most of his time at tackle. He is the most talented lineman for the Wolverines and is starting for the third straight year. Behind him is some actual depth this year. Redshirt freshmen #56 Ricky Barnum and #57 Elliott Mealer are both totally inexperienced, but very talented. They will both see limited action throughout the season, but hopefully Schilling can stay healthy so neither is forced into a full time starting role. Ideally, Barnum and Mealer would get a few reps each Saturday and slowly develop to where they can contribute on a larger scale next season.
To the right of Schilling, at center is second year starter #50 David Molk. Molk was forced into a role he should not have been playing a year ago. However, he probably benefited from the experience as a full time starter. He took some bumps and bruises especially early last season. He is an extremely hard worker and has bulked up a little this year. Molk has always put up big numbers in the weight room, holding seven S&C records for O-linemen, but it was obvious his lack of bulk and knowledge of how to use the strength was lacking a year ago. He holds the program record for squat by squatting 625 pounds, but that strength did not seem to translate to the field. A seasoned Molk should be much better this year, but as with the rest of the line, not quite great yet. I expect to see far less of Molk being shoved around as we saw last year. He should be able to hold his own much more consistently and be better able to use his strength. Behind him is another talented redshirt freshman in #63 Rocko Khoury. Ideally the coaches would like Molk to stay healthy while slowly working Khoury into some gametime reps. A Molk injury would not be good as Khoury is not ready to start yet. Moosman would then have to slide to center therefore reshuffling the line. That could be a big detriment to continuity.
Rounding out the interior linemen is right guard #60 David Moosman. Moosman was solid at times last season, but as with the rest of the line he was inconsistent.
Out of all the lineman last year though, Moosman struck me as perhaps the least erratic along with Schilling. Moosman was for the most part a solid but not great player on the O-line last year. With that year of experience he may take a step up into "good" status. He had some trouble getting to the second level last year and that will have to improve if Michigan is to make the most of their great backfield. Moosman is pretty versatile on the line and if Molk gets injured, chances are he could slide to center with one of the freshman taking his guard spot. Hopefully this does not come to pass, though as guard is Moosman's more natural position. Listed behind Moosman is #74 John Ferrara. Ferrara switched from DT to O-line last year due to the scarcity of depth. Of course, now Michigan lacks depth on the D-line but the coaches have elected to keep Ferrara on offense. Ferrara was not good last year, but for a guy who had never played O-line even in high school, he showed some promise in his five starts. He will see limited action this year, but will probably not see extensive playing time unless the team has injuries. I also would not be surprised to see Mealer and Barnum get some time at right guard in relief of Moosman.

Preseason O-line Grade: B.
This unit was awful last year, but alot of that had to do with the constant injuries and shuffling of the lineup. If the unit stays healthier this year, they will actually be able to build some continuity. With veteran starters and young talent behind them, I think the line will be very solid this year. They will not be perfect and opposing defenses will get into the backfield from time to time, but hopefully far less than last year. These linemen appear to be in perfect shape for the Rich Rod zone blocking scheme that requires some mobility. I think this will lead to a much better running game for Michigan.

Running Backs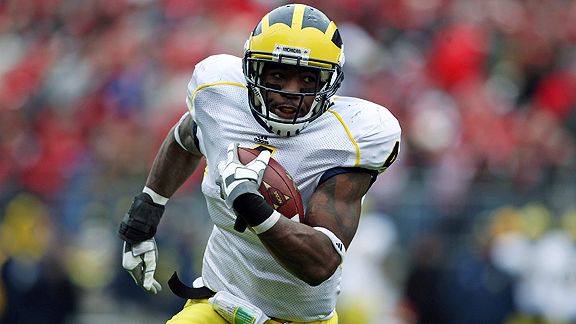 #4 Brandon Minor is now the guy to take hold of this team. After coming on very strong in the second half of last season, despite never being 100% healthy, many are expecting Minor to have a huge year behind the improved O-line. Unfortunately, his health may still prevent him from doing that. He has had a nagging ankle injury throughout camp and will not start this Saturday. He is expected to play, but probably not as much as was thought. Even though Michigan is really deep at running back, a healthy Minor with a solid O-line is poised for a huge year. Hopefully he gets back to 100% quickly and then stays there for a change. Minor averaged 5.1 ypc last season with a terrible offensive line and while being banged up. If healthy he will go over 1000 yards rushing on the year and challenge for 1st team All Big Ten. His combination of power, at 218 pounds, and deceptive speed will be perfect for the Big Ten in the spread and shred. Rich Rodriguez found this out last season against Penn State. Hopefully Minor is healthy enough for us to see more of that.
If he is not healthy, though, Michigan should be ok. #23 Carlos Brown will get the start against Western and also has the chance to put up give numbers IF he stays healthy. With Carlos, the IF is ginormous. He has not been healthy for an entire year at any point in his career. Right now he is 100%. If he can stay that way and Minor gets back to full health, they could be the best one-two punch backfield in the Big Ten along with Saine and Herron at O-State. Brown got his one start last season against NW and rushed for 115 yards. But that was pretty much his entire production for the year as he finished with 122 yards. Hopefully Brown can stay healthy as we all remember is 100 yard games in 2007. Brown is known for his speed, but also has good strength. He will be an interesting back who Michigan can use to manage the clock and at other times get him the ball in open field to showcase his speed.
Behind those two are two very talented young backs. Sophomore #20 Mike Shaw started a couple games a year ago despite being banged up for much of the season. He finished the year with 215 yards averaging 5.1 yards per carry. His best performance was at Minnesota where he had season highs in carries, yardage, and ypc. He had 8 carries for 71 yards at 8.9 ypc. He was not even 100% healthy that game. Shaw's key skills are his speed and elusiveness. I am not sure he is an every down back, at least not yet. But Michigan will probably get him a few carries each game and Shaw should be able to strike some long runs as he did a year ago even though he claims he was injured and would never have been caught from behind as he was in those runs. Shaw had surgery for a sports hernia in the spring and therefore missed much of the spring. He says he is back to full health and Michigan will find a way to get him the ball whether at back or at slot a couple times a game.
Surprisingly listed ahead of Shaw on the death chart is diminutive freshman #2 Vincent Smith. Standing at 5'6" Smith's quickness and "slipperiness" is what stands out. Many have seen the drill from camp where Smith somehow twisted his way out of what seemed to be a sure tackle or two, moving his body in ways no human should be able to. Smith is no doubt a "big play" back who Michigan will try to get the ball to in open space to showcase his quickness. Smith will play situationally in every game and will have a chance to make a big impression. He will play Saturday, perhaps more than Shaw, and will certainly bring the crowd to its feet a few times this season.
Overall, the tailbacks will be very fun to watch and if Minor and Brown stay healthy, this could be one of the top units in the conference. With a true freshman at quarterback, a solid running game will be critical to minimize the pressure the guys feel to force the ball downfield. If Michigan can have success on the ground early in games, it will take a lot of pressure off of whoever is the quarterback. This should lead to minimizing turnovers which were a huge problem last year. Of course they all need to hold onto the football, but none of these guys have been disastrous at carrying the ball lately.
The fullback position is also a strength for Michigan with #44 Mark Moundros as the starter. Moundros has been a block first fullback, but Rodriguez and the coaches rewarded him twice last year in the redzone giving him a rushing TD and a reception TD. Moundros has really developed into a good lead blocker for Michigan. He is not quite up to the status of the great Dudley, but he is a valuable blocking asset for the team. While many are sick of #24 Kevin Grady and his seemingly constant troubles, the coaches say he has been working very hard. That is why he is still on the team and now he is a fullback. I am very curious to see Grady play fullback and actually think he could be quite good. Grady is the strongest back on the team holding backfield records for bench and squat. He is also a huge 5'9" 230 pounds. If he has improved his blocking, he may actually end up seeing the field quite a bit this season. If he holds onto the ball, Michigan may give it to him a few times and he is a much more explosive and dangerous player than Moundros. While Moundros is the guy, I think it's something to watch for and see if Grady does start seeing the field.
Preseason Running Backs Grade: A-.
Yes I am may be a little too high on the running backs, but this grade is assuming everyone is fully healthy. With an improved offensive line I really like this group. It also might be foolish of me to assume they will stay healthy given the track record of Minor, Brown, and even Shaw. If there are some injuries, this unit will go back to average in the B range. But when fully healthy there are just too many really good weapons back here and a back in Minor who is one of the best when healthy.

Receivers and Tight Ends:
While no one target really stands out as a go-to guy, Michigan has an absolute plethora of options to go to in the spread. Starting at outside receiver, #13 Greg Mathews is the top guy. He has yet to establish himself as a great receiver and go-to
man, but he has been consistent. And last year, you cannot blame Mathews for the terrible QB play. Matthews ended up as the team's 2nd leading receiver with 409 yards on 35 receptions in 11 games. Now, he has an accurate quarterback, albeit a freshman one in Forcier. Forcier will have at least some time to throw. Mathews will see more balls and will have a chance to establish himself as a top tier receiver. I am not sure that he is at that level, but he is a solid receiver and will have chances to show he is more. On the other side, #21 Junior Hemingway has taken the starting job over #22 Darryl Stonum. Hemingway received a medical redshirt last season after coming down with mono for the remaining 8 games of the season. However, remember in the Utah game Hemingway had 6 catches for 79 yards and a score. If Hemingway was healthy last year maybe there would be no question that he should be a starter. It appears that it is still a close competition between Hemingway and Stonum though for the starting job and I expect both to get starts at the position. At practice on Wednesday, Stonum was playfully talking trash to Hemingway during the receivers' drills. Coach Dews heard him and jokingly said something along the lines
of, "Keep talking Darryl. Get in his head. You're going to take his job right?" So it seems they are still battling. In Mathews, Hemingway, and Stonum, Michigan has three legitimate outside receivers who can all play for possession or go long for the deep ball. Having those three experienced guys should really help the development of Forcier and Robinson as they should be reliable targets in the ten to fifteen yard range. #12 Roy Roundtree is listed as a slot receiver, but coaches have stated he plays both outside and inside. Roundtree will probably get a few reps at outside receiver this season given his success in the spring and the depth at slot. #82 LaTerryal Savoy is listed as Hemingway's backup, but does anyone really expect him to get significant time? He is now a fifth year senior who has never cracked the starting lineup except for one game last year in which he did not play too much throughout. His career has been a disappointment. With his 6'3" size coming out of high school he was at least expected to become a decent outside target. It never really materialized. #18 James Rogers played a little bit last season making his first career reception against Illinois. He should not play too much if Hemingway, Stonum, and Mathews are healthy. One guy to watch out for is true freshman #6 Je'ron Stokes. The coaches have praised the high school All-American throughout camp and he is currently listed at third on the depth chart at X receiver (Mathews spot). My guess is that the coaches would actually like to redshirt him, but will play him if they see it necessary. We will find out more about the coaches' plans if he plays on Saturday. So there is quite a bit of depth at this spot. Again, nobody has asserted themselves as a go-to guy just yet. But there are a bunch of solid options and chances are that one or two guys will at least step up and prove to have great seasons. I expect one of Mathews, Hemingway, or Stonum to emerge as a great deep threat this year.
The slot position also has alot of options. Rodriguez will sometimes have two slots in the game at the same time and that is a good thing given the depth. The top guy is #9 Martavious Odoms who was the team's leading receiver as a true freshman last year. Odoms proved to be a pretty good receiver last year given the circumstances (no QB and bad O-line). The team likes to get the ball to Odoms quickly in the flats or send him on that wheel route deep. Odoms' quickness is what makes him so dangerous. This
year, opponents will be more prepared for Odoms and expect them to get defenders to him much quicker thereby preventing him from making plays in the open field. I expect Odoms to have another good year and be able to go down field a little more with Forcier at the helm. He had pretty good hands a year ago (on offense; on special teams his hands turned to rock) and being a reliable target will help the freshman QBs. The execution needs to get much better on the bubble screens though. It will help having Forcier throwing the ball since he throws much more accurate screen passes than Threet. But Michigan needs to cut down on the negative yardage plays and alot of that was from those passes to Odoms. A good QB will really help fix those problems. Behind Odoms is a big surprise with former basketball player #19 Kelvin Grady moving up to 2nd on the depth chart. He made a splash early in fall camp with the mgoblue.com play of the day with a one-handed grab. Rodriguez really loves his speed and insists Grady is going to play alot this year. Grady played running back at East Grand Rapids a few years ago. As a senior he rushed for over 2000 yards and 28 TDs. Grady is fast. Michigan will look to get him the ball on screens or slants and let him run really really fast after that. And there's more good talent at slot still with #7 Terrence Robinson next on the depth chart. Robinson was actually slated to start ahead of Odoms last season until a leg injury sustained in fall camp kept him out for the entire year. As a senior in high school, Robinson played quarterback in a wildcat type system rushing for over 2100 yards and 29 TDs. It is yet to be seen if he has the same agility and speed as he did before the injury. He will see some action, but not as much as Grady and Odoms early on. If one of them struggles or if he proves to be better than expected when he gets reps, Robinson could work his way up the depth chart. As mentioned above, #12 Roy Roundtree will play both slot and outside receiver. After his excellent spring game it should be fun to watch Roundtree and he provides yet another legitimate dangerous target for the Wolverines. Some of Michigan's backs will also get some action at the slot in different formations for the Wolverines. I especially expect to see this with Shaw and Vincent Smith. Both are smaller backs with quickness that is ideal for the slot. We saw Shaw there last season and he was temporarily shifted there in the offseason. With Stonum, Hemingway, Mathews and the four guys on the depth chart at slot, we are already at seven solid options in the passing attack not including the running backs.
Though Rodriguez's system seemed averse to tight ends at WVU, last year Rodriguez embraced adding the tight end to the offense. The same seems to be the case this year. Rodriguez's reason for keeping the tight end is Michigan's talent at the position. #86 Kevin Koger played in the final nine games last year as a very talented true freshman. While he looked like a freshman alot of the time, especially blocking, he made some big plays receiving with his athleticism. Koger had 6 catches for 93 yards and the touchdown against Wisconsin. As the season progressed, Koger's blocking improved and he started to look like an athletic veteran tight end. Expect Michigan to try to use Koger's athleticism even more in the passing game this year. With the emergence of #80 Martell Webb as even with Koger on the depth chart, Michigan has two dangerous, big receiving tight ends at their disposal. In addition, highly touted redshirt freshman #88 Brandon Moore will enter the mix. It is unsure how much he will play given the depth ahead of him, but depth never hurt a team. Webb was recruited by many out of high school to be a big receiver. Carr recruited him as a tight end. Webb will be used in the passing attack and should be another solid option.
Altogether, I believe Michigan has 9 solid receiving options not including the running backs. Noone is great yet, but all of these guys should contribute a little at some point during the season. Having this many options can only help the young quarterbacks in my opinion. There will be reliable underneath options on any given play with the tight ends, slots or backs. If Forcier and Robinson are able to improve at going through his progressions throughout the year, Michigan should have an open man on most plays leading to a much more efficient passing attack.

Preseason Receiving Corps Grade: B.
Nobody really stands out as a big time playmaker yet, but a solid group of decent pass catchers with talented quarterbacks who should have some time to throw will lead to good things. Very nice depth.
Offense As a Whole
The second year for Rich Rodriguez's offense leads to big improvement. In Rodriguez's first year at West Virginia, the team rushed for 1992 yards total. In year two the team rushed for over 3700 yards and 39 TDs. Passing yardage stayed about the same, but the TD-INT ratio went from 9 TDs:19 INTs to 11 TDs:9 INTs. Team scoring went from 21.4 points per game to 30.5 points per game. A second year in Rodriguez's system has a pretty large impact.
Since Michigan will be playing two true freshman quarterbacks, the leap might not be that drastic, but there will be a large increase in offense productivity. The main concern is turnovers. Michigan had 30 TURNOVERS last season. Michigan had 38 FUMBLES only 18 of them were lost. Those numbers are astoundingly horrific. Granted some of the fumbles happened on special teams, but they were committed largely by offensive players (cough cough Martavious). Even with freshman quarterbacks, I believe interceptions will be down unless Forcier tries to force the ball too much, which I do not think he will do. The main concern is fumbles. Last season, Rodriguez said the staff was working to correct the fumbles, but they kept happening. Rodriguez said Wednesday that he has hardly seen any balls dropped to the turf in fall camp. Hopefully he is right and God please let them hold onto and catch the football.
If the turnovers do go very far down, as I expect them to, this offense could actually be quite good. It would be much better if Forcier had a year or two under his belt, but having a one-two punch at quarterback with one of them being the lightning fast Robinson may help mitigate freshman error? (grasping at straws here). If quarterback play is above average this offense will be really good. Even if they play like freshman, though, it cannot get worse than last year's numbers. It is mathematically impossible for that to happen. Bottom line, offense much better.

Preseason Offense Grade: B-.
The offensive line is much better, the running backs should be great, the receiving corps has depth. It does come down to quarterback play this year. Forcier is very talented, so is Robinson, but they are freshman. They will do some things that make us scratch our heads at times. But this should happen far less often than last year when the quarterbacks did not even have time to do anything before a defensive lineman was breathing down their neck. Sheridan is very smart, but physically does not have near the tools that Forcier and Robinson have. The fact that Forcier can throw screen passes much better than Threet or Sheridan alone will make this team much better. The offense should actually be fun to watch this year, but they will struggle at times. The running game will be very important and should improve the most given Rodriguez's track record. Robinson will provide excitement with his feet, Michigan might have two backs go over 1000 yards, and we will actually see what Rodriguez's offense is supposed to look like.