Michigan State is not that good. I was very confused with all the hype they were getting prior before getting killed last weekend. They had played nobody going into that game last weekend yet were being talked about like they had done something to prove themselves. Sparty has been outgained in every game since the Indiana game (and in that one they still gave up 400 yards). First up was a struggling Iowa team at the time (coming in averaging 10 points a game), but Shonn Greene completely outclassed Javon Ringer and if it wasn't for three first half turnovers, two of which were deep inside Michigan State territory, Iowa would have handily beat State. Up next was Northwestern who also committed two early turnovers that lead to Sparty scoring on both to help take a 17-0 lead. Northwestern outplayed MSU the rest of the game, though, outgaining State 459-297. Take note, Northwestern runs a spread where they like to run their not so fast white quarterback (Bacher). Then came last week's game, which I was not shocked to see. An O-State offense, seriously struggling to get in any kind of rhythm, found a Spartan D that was just right to help get the ball rolling. 216 rushing yards later, while holding Ringer to just 67 yards and outgaining Sparty 332-240, MSU finally showed their true colors with a 45-7 drubbing at home.
Let me repeat, State is not that good. But then again neither is Michigan. But this game and Purdue remain the only two I am confident about for the rest of the season.
The reason? State's offense is very similar to the old-fashioned Wisconsin offense
which Michigan shut down, and State's defense is a worse version of the Wisconsin defense when it comes to defending the spread. The last two games for State were against spread offenses and we all saw what happened against the Buckeyes, and they did get ridiculously outgained against NW as mentioned above. If Threet is healthy enough to play the whole game Saturday, Michigan's offense finally showed they can move with a healthy Threet in last week's first half. There was something there, because Penn State has a legit run defense and Michigan was successfully running right at them for the entire first quarter and some of the first half. For Michigan to have their first running success against a top 3 team at Penn State is a very good sign. Granted, if Threet goes down, it seems Michigan has no shot at moving a nerf ball down the field, but if he stays healthy, State cannot stop the spread and Michigan could have some big time success for the first time all year.
State has relied on not turning the ball over this season, and on capitalizing on opponent mistakes. Despite getting outgained in both the Iowa and Northwestern games, Iowa coughed the ball up twice inside the redzone and NW threw two early picks which put State in very good field position to score (and they did). In the Iowa game, State only had one turnover to Iowa's three which was the difference in the game, and against Northwestern, State did not have any miscues while NW had 3, again the difference in the game.
Last weekend, State turned it over 5 times leading to the madness that would ensue. With Hoyer banged up, as much as State fans want to hate on him, he has done a decent job this year of not throwing interceptions. A freshman in Kirk Cousins or a banged up Hoyer, may not have the same fortune.

State Offense vs. Michigan Defense
State's offense is, simply put, #23 Javon Ringer running behind a fairly veteran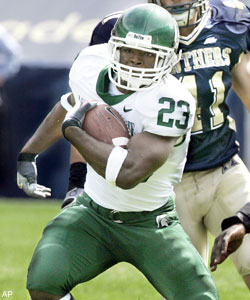 O-line. Other than that, uh...Bri..uhh..Hoy...uhh NOTHING. Yes I did say State fans shouldn't hate on Hoyer too much, but, let me be real this time, hate on. He has completed UNDER 50% of his passes this season so MSU has NO passing attack. They hardly ever spread the field so the speed of Mark Dell (#2) has been vastly underused this season with him averaging around 60 yards a game and only scoring twice on the year. Freshman #3 B.J. Cunningham and Junior #25 Blair White have turned into the main threats in the passing game. Neither are averaging over 45 yards a game this season and neither has scored. Wide Receivers have not done anything this season for State (probably b/c Hoyer can't seem to get the ball to them). State does like to go to the tight end though and they have a decent one in sophomore #83 Charlie Gantt. He has three of the passing unit's 7 TD's this season. Yes, State only has 7 passing TD's on the SEASON (through 8 games). They will be running to Ringer and hoping not to get in a third and long all game.
State has a very strong right side of the line with 5th yr. Sr. Roland Martin at Guard (330 pounds) and 5th yr. Sr. Jesse Miller at tackle (6'6" 318). There is no question they favor that side. Michigan, and Shafer, will hopefully actually put 8 in the box here and run/zone blitz the safeties and outside backers often in this game to come help out the D-line. There is no reason Shafer and the D should play any nickel this week or sit back. State has no passing game so they need to attack...come on Shafer. I think they will because nobody in their right mind would be too worried about the passing attack of State. In third down passing situations though, Michigan will have to mix up their blitzes though and still try to attack the right side of State's line even if it is stronger. Against Illinois, Shafer and the D thought they would take advantage of a weaker Illini right side, which is good at first. But Illinois caught on quickly and, remember all those screens that went for big yardage. All were to the left side, and Shafer and the D for some reason continued to only bring pressure on the right. Opponents are not dumb so mix it up.
Michigan should have success though against State's Wisconsin style, one-dimensional offense. If they don't have success Michigan might not win another game this season.
Advantage: Michigan


Michigan Offense vs. State Defense
Please be healthy enough to play the whole game Threet...please. The truth came out and Threet has gotten shot up with cortisone before both the Toledo and Penn State games, because he has been injured for a while. Hopefully he is near healthy because Michigan finally was having some great success in the first half against Penn State with Threet running the show and Minor in the backfield. The entire O-line, except for Ortmann, seems to be improving now and looked their best in that first half vs. Penn State. Ortmann seems to be getting worse for whatever reason. Regardless, if Threet is healthy, and Minor again holds onto the football, I think we might be able to see Michigan's first close to complete four-quarter game offensively against a State team that cannot defend the spread. A complete game for Michigan would probably mean moving the ball for a few first downs every drive and having about 4 touchdown drives with a field goal maybe sprinkled in. A few things would need to happen for this to be possible.
1. Threet has to be healthy
2. Michigan cannot turn the ball over more than twice.
3. The coaching staff has to keep mixing things up throughout the game and stop letting defenses catch on after running the same plays over and over.
If those happen or come close to happening, I think we could see a Michigan offense that looks like a legitimate college offense for the first time this season.
Michigan State's defense does not impress much at all. Junior DE #58 Trevor Anderson is their only real pass rush threat on the line with 5 sacks on the year. I'll be concerned anytime he gets matched up with Ortmann. In passing situations with Ortmann in the game, I'd like to see Minor or Moundros back there on the left side of Threet to pass protect.
State will bring their linebackers up alot too especially on zone/run blitzes. Sophomore #53 Greg Jones on the outside and Junior #55 Adam Decker in the middle will be the ones who mainly come up. Overall, though, the linebacking crew of Jones, Decker, and #43 Sophomore Eric Gordon, reminds me alot of Michigan's linebacking corps this year. That bodes well for Michigan's offense who should look for Koger often or one of the slot receivers who ends up getting in a favorable mismatch with those guys. They will miss alot of tackles so if Michigan just executes and mixes up their play calling...
State's secondary is certainly their best unit. Their safeties in SS senior #21
Otis Wiley and junior #33 Dan Fortener are having pretty good seasons in coverage, especially Wiley who has 4 picks and 7 PBU. #37 Ross Weaver is an ok corner and #29 Rucker, #5 Fr. Johnny Adams and #9 Jeremy Ware should all see some time. They are bound to look bad though as State will probably sit back in the zone. The one thing that scares me, however, is those balls that Threet just floats in. He has not shown any propensity to throw the ball hard and if he floats any up in the vicinity of Wiley, there is a good chance Wiley will find it. Threet will have to make very good decisions as to when it is safe to float the ball into the receiver.
If Michigan spreads the field though, with a healthy Threet and a non-fumbling Minor, they should have some success running the ball against a not so good State defense who also cannot stop the spread. If the running game gets going with Minor and Threet out of the shotgun, they hopefully will not have to look down the field too much with Threet's elbow and floating balls. I do think Michigan will do well, but there is no way I can give them the edge after seeing just one half of solid execution. State has also seemed to take advantage of nearly every mistake the opposing offense makes. Michigan will need to avoid the stupid mistakes that have plagued them all year.
Advantage: State
Special Teams:
Brett Swenson has been a very good kicker for Sparty so far this season making 15 straight after missing the first one of the season putting him at 15-16 on the year. Aaron Bates has been a pretty good punter too averaging near 42 yards a kick, but that unit has given up two blocked punts this season so hopefully Michigan brings the pressure since they've been close a couple of times this year. Todd Boleski has been good on kickoffs with opponents averaging a start at their own 25 yard line.
Otis Wiley has returned punts this season pretty well returning 16 for an average of 12 yards a return and one big one of 78 yards. Ringer has returned kicks and has averaged an average 20 yards a return. Nobody seems to be tough here except for Wiley so Zoltan will have to continue to do a great job of kicking away from the returner.
Michigan's return game is just...I hope they find an answer, but if McGuffie is going to fumble it, I don't know who will hang on. I don't know what to expect here so it'll probably be bad again.
Lopata still scares me and is not very consistent but Zoltan is doing great. I now do believe he has worked on how to put that forward spin on the ball to get good bounces and he continues to get better each game.

Advantage: State
All I want to say is Mark Dantonio could have a case of trying way too hard to win this game. First of all, he keeps saying something like "it's not over until it's over" which nobody knows what it means because last year's game certainly is over. Secondly, for a coach to defend his school against comments made by a player by insulting the player's God-given height is completely classless as is MSU and he needs to learn how to take the high road. Thirdly, Rodriguez has played him twice and owned him in both games 38-0 and 42-24.
Brandon Graham came out and pretty much guaranteed a win for Michigan. While I don't agree with this because he is not Mike Hart and State is still better than Notre Dame was a year ago, I am happy to see the players still have confidence after what they've gone through this year. That defense knows that State is one of the few offenses on the schedule that play right into their strengths. Michigan should be able to shut down State as long as they stop sitting back in that stupid zone. There is no reason to defend the pass in this game so Michigan should have 8 in the box often.
I think State is going to come out overprepared (burnt out from the prep and pressure Dantonio puts on them for this game), overhyped, and will again struggle against a spread if Threet plays no matter how bad Michigan is.
Prediction: Michigan 26 MSU 17
This is, again, one of the only two games I am confident about the rest of the way due to State's style of play.
Be sure to tune into the game LIVE on the Sports Stream at 3:30 PM Saturday. By going to
wcbn.org
and clicking on the link that says Sports Stream.
Hopefully we can finally shut Dantonio up, but even if Michigan does win it probably still "won't be over." Win or lose, State is still going to be little Bro b/c they emulate us in every way including trying to be like big Bro and have football players beat up hockey players.
Sparty Can't Read Can't Write
Go Blue!