The Michael Vick saga is one of those sports stories that escalated so quickly that it took everyone a little by surprise. Now looking back on the exposure of this dogfighting ring, it is perfectly plausible that an athlete of Vick's stature not only could be a part of the ring, but lead it. I don't think that we have seen anything this serious with an athlete since an "innocent" O.J. Simpson was acquitted of murder charges. Even though murder charges are a bit more serious, the charges came 10 years after Simpson was inducted into the Pro Football Hall of Fame. Vick's charges come in the middle of his high profile, while disappointing, NFL career.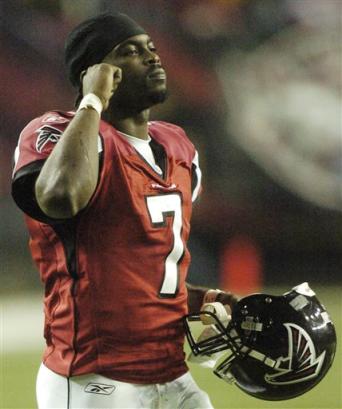 Will look better in orange than Martha Stewart
The fact that Vick is even considering a plea deal and that his co-defendants have pleaded guilty is very bad new for the Falcons QB. I may be a few credits short of a
law degree online
, but felony charges are pretty serious. He will probably spend about a year in jail, even with a plea deal. There will be a long probation period as well as community service. Hey, he could just write some children's books about his own life lessons
like T.O.
However, he could have done a little more to help his future NFL career. If he pleas or is found guilty, his career with the Falcons is definitely over. Even before the felony charges, the Vick's days with Atlanta were numbered, especially with Bobby Petrino in as the new coach. Now that he is on the brink of jail time, the Falcons will be going in a different (
yikes
) direction. So what are the possibilities for Vick after remembering not to drop the soap? Well, he made a huge mistake in lying to Roger Goddell and will probably face suspension time if and when he decides to return to the NFL. There are teams out there, like the Raiders, who would take a chance on Vick. On a side note, I believe Goodell is handling this situation well (see Duke lacrosse team) in not taking to swift a reaction with Vick.
All I can say to Vick now is, next time you want to set up fights, use something that no one loves. Like Ohio State students.