First off, this is the very first launching of my "sarcastic wit" - so please be gentle with your comments. Hah, just kidding! It really is my first time doing this blog stuff, though...
OK, so yes, Roger clinched his 50th on Sunday, but that was not the most exciting part of the Masters Series Championship in Cinci. The real action came during the finals of the men's doubles match. Trust me – I know. I was there.
So let me set the scene for all you readers out there who want to hear about sports from a WOMAN'S perspective (because it is untrue what they say about how all the estrogen-filled chicks crowd the stadium to watch Andy Roddick and Robby Ginepri show off their eight-packs between sets. That is an added bonus, though…). First off, ain't nobody can say we tennis fans – male or female – aren't passionate about our sport. If sitting in 100 degree, sticky, humid, just plain NASTY weather for five hours isn't love, then I don't know what is. Not only was my hair plastered to my dripping forehead, I totally lost the prim, proper demeanor I have long been proud of. I can only thank the heavens that tennis doubles aren't popular enough to be televised, because me, skirt hiked up to my thighs, running ice cubes over my body, slouched over and drooping like a parched daisy would have scarred more than a few children. But I'm a true tennis fan, and I'd do it all over again if I had to.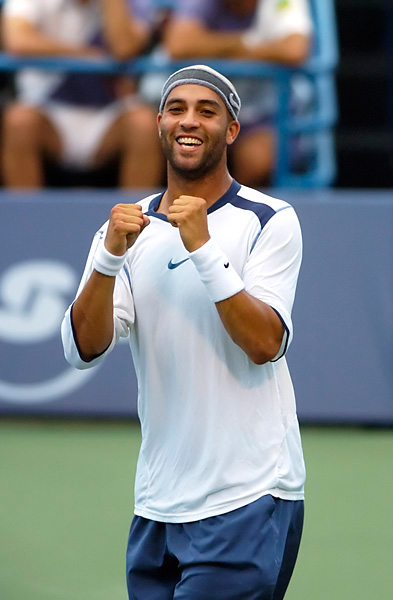 We'll skip the first few days and move to the semis – that's when things really started heating up and (warning, I'm going to use a pun here) I'm not talking about the weather. As we know, Nadal bowed out with an ankle injury, thereby taking a competitive edge off the weekend. It's also worth mentioning that Andy Roddick lost in the quarterfinals to Ferrer, clinching his title as "Shame of a Nation." Seriously, when is that guy going to get his game back? Also in the quarterfinals, Blake beat newcomer and wildcard Querrey. Wow – this Querrey kid's got game! He's 19, six foot seven (or something like that), and has a 125+ mph serve. Look for him in the upcoming future, kids. Anyway – the match boasts one of the best match points I've seen in my life – Querrey serves, Blake returns the ball into the back of the court, Quirrey send him a lob which lands up by the net, Blake hustles to volley it back, but Quirrey's there to lob it right back AGAIN only to have Blake finish it off with a slice to the back corner of the court. In the end, the more experienced of the players prevailed.
So move on to the semis: Federer beat Hewitt (yeah, yeah, no surprises there – although Hewitt did hold his own for the first set) and Blake turned it up to defeat Davydenko. Let's take some time to talk a little about Davydenko, shall we? The guy's a human backboard people, but there's a reason he's #5 and not #1 – he can't handle change (what man can?). Seriously, all his shots are crisp and clean and so good, they deserve a place in the textbooks. But once you throw him a curveball he falls to pieces. Towards the end of the match, he had to slow down his killer serve just to get the balls in the court. So we see the Yankee-man pitted against the Swiss Dominator in the finals…
Oh dear, that was embarrassing. The match lasted all of one hour (give or take 15 minutes). You know what I think? I think Blake lost the match before he even stepped on the court. It's all in the mindset with these things because, believe it or not, Federer did not show us his best tennis this weekend – he was just able to nail the shots that counted and thereby, he freaked out his opponent. If Blake had just imagined playing "some other player" and not "All-powerful Federer" he would have given America the well deserved win we've been waiting for. But alas, Federer walked away with his 50th title and not one, but two shiny trophies.
I promise, if I get some exciting comments, I'll grace you with my not-so-clean take on the doubles' matches…